History of the Versatile Skid Steer Loader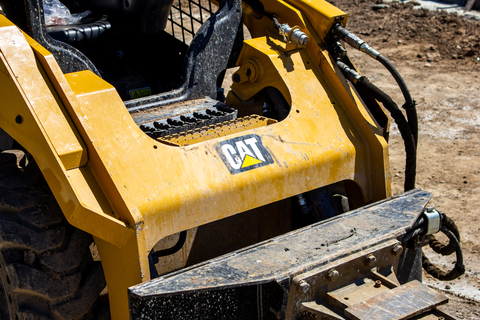 One of the most versatile machines on any construction or demolition project is the skid steer loader, a compact, rigid-framed, engine-powered machine with lift arms that can be fitted with a variety of different tools and attachments.
The skid steer loader was invented in Rothsay, Minnesota in 1956 by a pair of local blacksmiths named Cyril and Louis Keller. A turkey farmer asked the two brothers to make a lightweight machine he could use to clean manure from his barns, and they came up with a three-wheeled vehicle that quickly became popular. The Melroe Manufacturing Company bought the manufacturing rights in 1958 and hired the Keller brothers to develop it further. By 1960, the single rear caster wheel had been replaced by a rear axle, and in 1962 the four-wheel skid steer loader was dubbed "Bobcat".
Skid steers are ubiquitous on R. Baker & Son demolition projects, and one or more skid steers can usually be seen on any given job site. Skid steers are light, easily transported, and can be lifted via freight elevator or rigged by crane. They are highly maneuverable, using two joysticks to operate, and can turn within their own footprint, allowing them to operate in tight spaces.
There are dozens of attachment options available for the skid steer loader including buckets, augers, hammers, brooms, saws, forks, rippers, scrapers, backhoes, and more. Multi-terrain counterparts to four-wheel versions are fitted with tracks. Operating capacities range from 800 lbs. to over two tons. On demolition and construction sites, skid steer loaders are used to move debris, gravel, snow, sand, cement, dirt, etc., and can lift and manage tools and materials such as rebar, pipe, conduit, toolboxes, and air compressors. Demolition attachments commonly include shears and hydraulic breakers for demolishing walls, floors, and ceilings. Popular manufacturers include Bobcat, John Deere, Caterpillar, Gehl, Case, and more.

About R. Baker & Son All Industrial Services
R. Baker & Son All Industrial Services, a Minority and Women-Owned Business Enterprise (M/WBE), in business since 1935, is a premier specialized contractor operating in the United States, Canada, and Puerto Rico, with over one hundred employees and an exemplary safety record (we have been directly involved in four sites that received VPP OSHA Safety Awards). R. Baker & Son is financially strong, with bonding capabilities of over $10 million. Capabilities include industrial and commercial demolition, rigging, machinery- and plant-moving, dismantling, decommissioning, plant and equipment relocation, interior demolition, selective demolition, warehousing, wrecking and razing, millwright, plant reconfigurations, heavy rigging, salvage, environmental services, remediation, decontamination, abatement, and investment and asset recovery.
R. Baker & Son - All Industrial Services
190 Boundary Road
Marlboro, NJ 07746
732-222-3553
Full News Archive
2022
2021
2020
2019
2018
2017
2016
2015
2014
2013
2012
2011
2010
2009
2008