Kosciusko Bridge Demolition UPDATE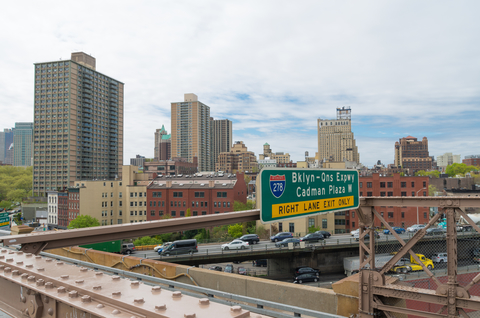 Last March, R. Baker & Son wrote about the demolition of the old Kosciuszko Bridge, which at the time had been scheduled to take place during the summer of 2017. After a few delays, remaining sections of the 78-year-old span were finally brought down early Sunday morning, October 1, 2017, in a controlled implosion. Several hundred civilians watched the implosion from a safe viewing area while city V.I.P.s watched the demolition from police boats.
Demolition of the steel structure was necessary to make way for the new bridge, two new cable-stayed spans that will connect Brooklyn to Queens. The old bridge, which was originally built for 10,000 vehicles a day and wound up carrying upwards of 180,000 per day, had long been obsolete.
The bridge demolition took place in two phases, beginning with the center section, which in July was dismantled and lowered onto barges in the Newtown Creek below. Last week's implosion brought the remaining ramps down onto beds of shock-absorbing sand using more than 900 explosive charges. Twenty-two million pounds of steel trusses will be recycled.

R. Baker & Son - All Industrial Services
190 Boundary Road
Marlboro, NJ 07746
732-222-3553
http://rbaker.com/selective-demolition.php
Full News Archive
2022
2021
2020
2019
2018
2017
2016
2015
2014
2013
2012
2011
2010
2009
2008