R. Baker Salvages Fixtures for Reuse on Plant Consolidation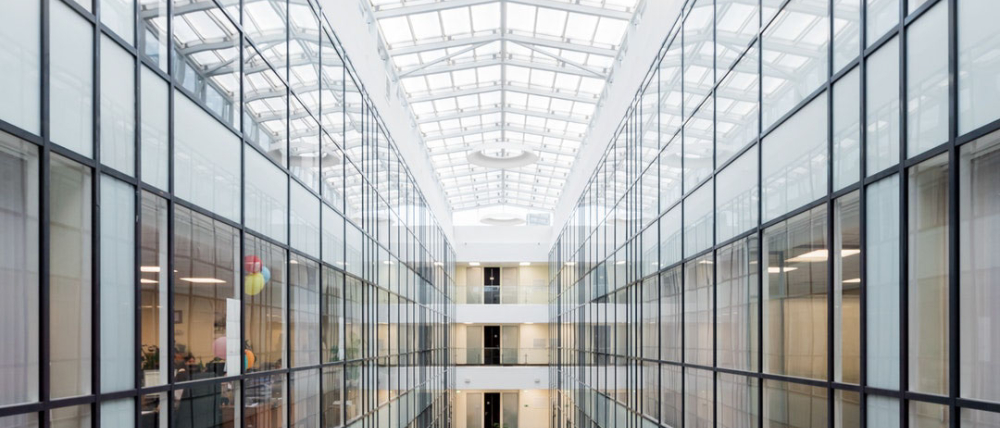 A longtime client approached R. Baker & Son with a plant relocation project in which operations at several partially-occupied buildings were to be moved to a single 200,000 sq. ft. building nearby. The budget was extremely tight and preserving and reusing the building's unique architectural features was important to the owner, so project participants were challenged to come up with an innovative plan.
Built in the mid-1990s, the spacious four-story facility had previously housed laboratories, offices, and cafeteria. It featured a soaring open atrium allowing in natural light through a continuous skylight. There were marble floors throughout, and each level had custom stainless-steel railings separating the skywalks from the atrium. Expensive lighting fixtures were custom made and parts were no longer available.
R. Baker & Son's assignment was to perform selective interior demolition and asset recovery in the building, removing sections of walls and ceilings to create new office space while reusing as many fixtures and finishes as possible. The Baker Team worked closely with the project architect, walking the spaces room by room and tagging what would stay, what would go, and what would be salvaged for reuse or resale.
Many of the walls selected for demolition were between lab spaces that contained piping and ductwork that had to be carefully removed and capped to create an open office environment. Lighting was cleaned, fitted with new ballasts and reinstalled, and doors were refinished and reused. A Baker rigging crew used a 130-ton crane to hoist two new 500-lb. glass panels into the atrium skylight to replace two cracked sections. R. Baker & Son also moved in all-new atrium furniture, extended cafeteria seating, and conversation areas.
All laboratory equipment, furniture, fume hoods, casework, counters, eyewash stations, shelving, sinks, glass washers, and autoclaves were carefully cleaned, removed, and shipped to storage for reuse elsewhere within the organization or to be resold. Additionally, R. Baker & Son was involved with repairing and cleaning skylights, stainless steel railings, and other finishes in the atrium. Estimates were updated on a biweekly basis to ensure the scope matched the budget as the project progressed.
About R. Baker & Son All Industrial Services
R. Baker & Son All Industrial Services, a Service-Disabled Veteran-Owned Business (SDVOB) in business since 1935, is a premier specialized contractor operating in the United States, Canada and Puerto Rico, with over one hundred employees and an exemplary safety record (we have been directly involved in four sites that received VPP OSHA Safety Awards). R. Baker & Son is financially strong, with bonding capabilities over $10 million. Capabilities include industrial and commercial demolition, rigging, machinery- and plant-moving, dismantling, decommissioning, plant and equipment relocation, interior demolition, selective demolition, warehousing, wrecking and razing, millwright, plant reconfigurations, heavy rigging, salvage, environmental services, remediation, decontamination, abatement, and investment and asset recovery.
R. Baker & Son - All Industrial Services
190 Boundary Road
Marlboro, NJ 07746
732-222-3553
Full News Archive
2022
2021
2020
2019
2018
2017
2016
2015
2014
2013
2012
2011
2010
2009
2008